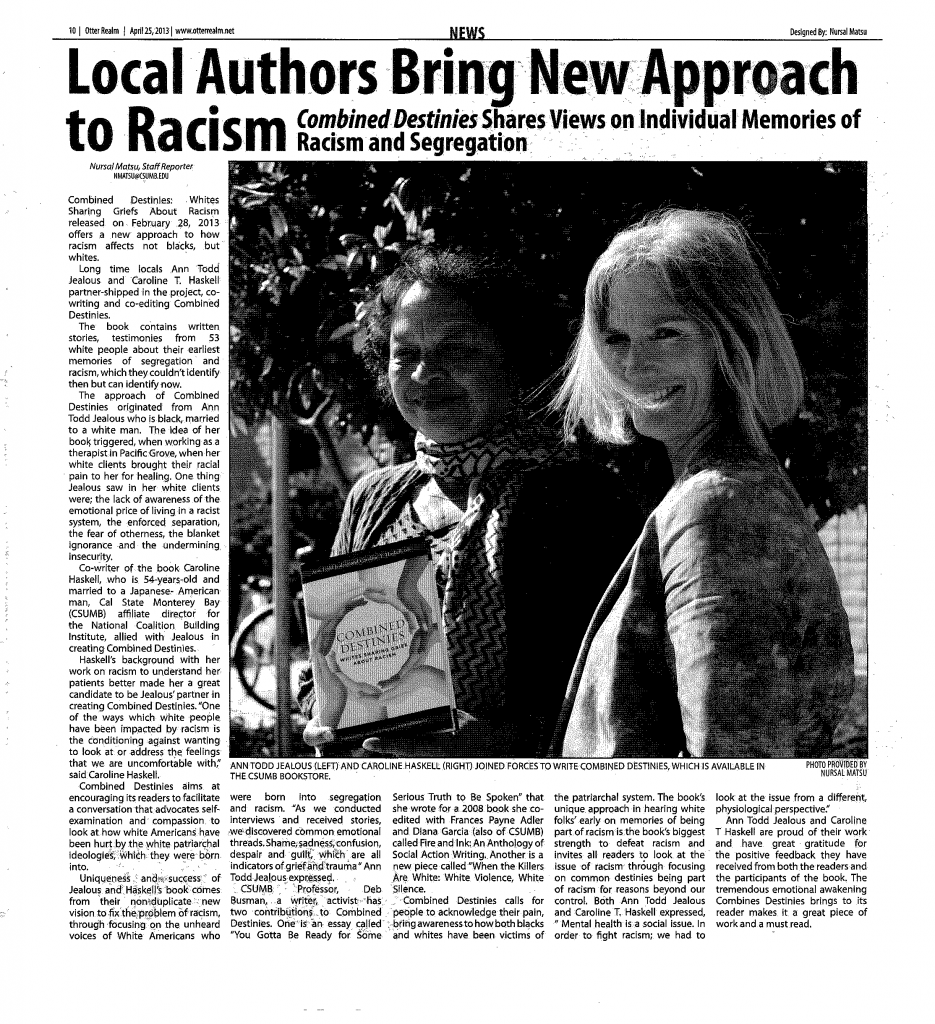 From The Otter Realm
Local Authors Bring New Approach to Racism
Combined Destinies Shares Views on Individual Memories of Racism and Segregation
By Nursai Matsu, Staff Reporter – nmatsu@csumb.edu
Posted: April 25, 2013
Combined Destinies: Whites Sharing Grief About Racism released on February 28, 2013 offers a new approach to how racism affects not blacks, but whites. 
Long time locals Ann Todd Jealous and Caroline T. Haskell partner-shipped in the project, co-writing and co-editing Combined Destinies.
The book contains written stories, testimonies from 53 white people about their earliest memories of segregation and racism, which they couldn't identify then but can identify now.
The approach of Combined Destinies originated from Ann Todd Jealous who is black, married to a white man. The idea of her book triggered, when working as a therapist in Pacific Grove, when her white clients brought their racial pain to her for healing. One thing Jealous saw in her white clients were; the lack of awareness of the emotional price of living in a racist system, the enforced separation, the fear of otherness, the blanket ignorance -and the undermining insecurity.
Co-writer of the book Caroline Haskell, who is 54-years-old and married to a Japanese-American man, Cal State Monterey Bay (CSUMB) affiliate director for the National Coalition Building Institute, allied with Jealous in creating Combined Destinies.
Haskell's background with her work on racism to understand her patients better made her a great candidate to be Jealous' partner in creating Combined Destinies. "One of the ways which White people have been impacted by racism is the conditioning against wanting to look at or address the feelings that we are uncomfortable with," said Caroline Haskell.
Combined Destinies aims at encouraging its readers to facilitate a conversation that advocates self-examination and compassion to look at how white Americans have been hurt by the white patriarchal ideologies, which they were born into.
Uniqueness and success of Jealous and Haskell's book comes from their non-duplicate new vision to fix the problem of racism, through focusing on the unheard voices of White Americans who were born into Racism and segregation. "As we conducted interviews and received stories, we discovered common emotional threads. Shame; sadness, confusion, despair and guilt, which are all indicators of grief and trauma" Ann Todd Jealous expressed.
CSUMB Professor Deb Busman, a writer, activist, has two contributes to Combined Destinies. One is an essay called "You Gotta Be Ready For Some Serious Truth To Be Spoken" that she wrote for a 2008 book she co-edited with Frances Payne Adler and Diana Garcia (also of CSUMB) called Fire and Ink: An Anthology of Social Action Writing. Another is a new piece called ".When the Killers are White: White Violence, White Silence."
Combined Destinies calls for people to acknowledge their pain, bring awareness to how both blacks and whites have been victims of the patriarchal system. The book's unique approach in hearing white folks' early on memories of being part of racism is the book's biggest strength to defeat racism and invites all readers to look at the issue of racism through focusing on common destinies being part of racism for reasons beyond our control. Both Ann Todd Jealous and Caroline T. Haskell expressed, "Mental health is a social issue. In order to fight racism; we had to look at the issue from a different physiological perspective."
Ann Todd Jealous and Caroline T . Haskell are proud of their work and have great gratitude for the positive feedback they have received from both the readers and the participants of the book. The tremendous emotional awakening Combines Destinies brings to its reader makes. it a great piece of work and a must read.